These pages offer an overview of books that we think are worthwile reading for professionals. Choose your field of interest in the left-hand column.
If you want to add any publication you think might be of interest, or want to discuss any of the books presented, please contact us or -even better!- start a thread at our forum.
Recent Additions:
Interior Design: Theory and Process
Anthony Sully
Successful interior design requires resolving a multitude of logistical and creative problems to produce a coherent, functional and aesthetically pleasing environment. This book, the first of its kind, tackles the problem from a theoretical approach and not in the conventional how-to or inspiring ideas fashion. Categorising design into nine key elements, including space, light, display, storage, and offering new terminology to describe each area, the author breaks new ground in the field of interior design in an approach that brings vitality and clear communication to a misunderstood and often free-wheeling design discipline. Drawing on more than 45 years experience as an interior designer, Anthony Sully provides the ultimate resource in insight and explains best practices from interpreting a client s brief, to analysing the building, to setting up a design team and work schedule plus a host of other practical aspects. Peppered through this toolkit are illustrations and explanations of how to analyse space and form in relation to human activity, the formulation of design concepts, and how to learn from mistakes that have been made in the past.
Publisher: A & C Black Publishers Ltd (24 May 2012)
Language: English
ISBN-10: 1408152029
ISBN-13: 978-1408152027
After Taste, Expanded Practice in Interior Design
Kent Kleinman, Joanna Merwood-Salisbury, Lois Weinthal, editors
What is taste? This well-curated collection documents new theories and emerging critical practices in the field of interior design. It investigates taste, a concept central to the formation of the discipline in the eighteenth century that was repudiated by architects in the early twentieth century, but which continues to play an important role in interior design today. Essays by historians and critics are complemented by interviews with practitioners on the margins of normative practice and portfolios of the work of contemporary designers.
Publisher: Princeton University Press
ISBN 9781616890261
Publication date 12/14/2011
6 x 9 inches (15.2 x 22.9 cm), Paperback
256 pages, 75 color illustrations, 25 b/w illustrations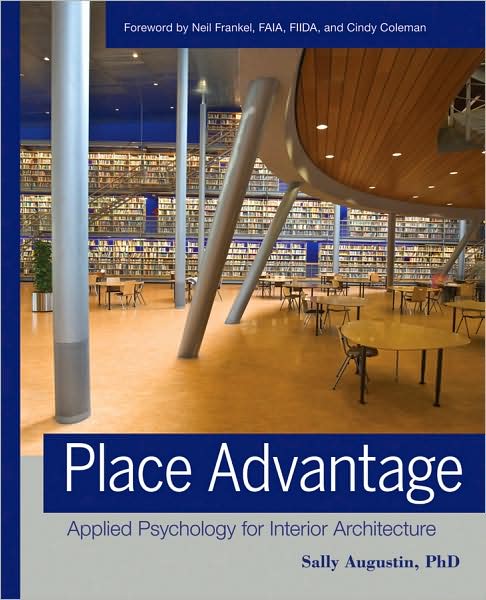 Place Advantage: Applied Psychology for Interior Architecture
By Sally Augustin
Using psychology to develop spaces that enrich human experience
Place design matters. Everyone perceives the world around them in a slightly different way, but there are fundamental laws that describe how people experience their physical environments. Place science principles can be applied in homes, schools, stores, restaurants, workplaces, healthcare facilities, and the other spaces people inhabit. This guide to person-centered place design shows architects, landscape architects, interior designers, and other interested individuals how to develop spaces that enrich human experience using concepts derived from rigorous qualitative and quantitative research.
In Place Advantage: Applied Psychology for Interior Architecture, applied environmental psychologist Sally Augustin offers design practitioners accessible environmental psychological insights into how elements of the physical environment influence human attitudes and behaviors. She introduces the general principles of place science and shows how factors such as colors, scents, textures, and the spatial composition of a room, as well as personality and cultural identity, impact the experience of a place. These principles are applied to multiple building types, including residences, workplaces, healthcare facilities, schools, and retail spaces.
Building a bridge between research and design practice, Place Advantage gives people designing and using spaces the evidence-based information and psychological insight to create environments that encourage people to work effectively, learn better, get healthy, and enjoy life.
Publisher: Wiley, John & Sons, Incorporated
ISBN-13: 9780470422120
ISBN: 0470422122
Pub. Date: April 2009
Colour Hunting
By Jeanne Tan
For millennia, artists and designers have utilized colour to express ideas and emotions in everything from the frescoes and textiles of ancient civilizations to the haute couture and digitally created architecture of today. Colour plays a vital role in our visual experiences and affects senses such as feeling and taste, but it also shapes our actions subconsciously. Colour Hunting: How Colour Influences What We Buy, Make and Feel explores the very depths of the subject.
Subtitle: How Colour Influences What We Buy, Make and Feel
Release date: June 2011
Author: Jeanne Tan
Compiled by: Hanneke Kamphuis and Hedwig van Onna
Published by: Frame Publishers
Language: English
Size: 200 x 265 mm portrait
Format: 264 pages, full colour, hard cover
ISBN: 978-90-77174-27-2
Price: €49.90 (excluding shipping costs)
This book provides essential introductory information for designers and interior designers. From the realm of interior design, for example, it deals with ceilings, floors, doors, windows, stairs, etc.—from that of material science, with carpets, wallpaper, wall paint, glass, wood materials, stone, and concrete. It also presents architectural drawing: techniques of representation, descriptive geometry, technical drawing, standard dimensions, signs and symbols, and mathematical foundations; attention is also given to the fundamentals of graphic design, preparing documents for publication, file formats, and color systems. All of this is generously leavened with practical examples; original essays by Ruedi Baur, Axel Kufus, Norbert Rademacher, Martin Kunz, and others; and thought-provoking quotations. If they want to, readers may separate the pages of the Japanese binding—this way they get room to add their personal notes and comments.
Originally published in German.
Pub. Date: April 2007
Publisher: Birkhauser Verlag
Format: Hardcover , 304pp
ISBN-13: 9783764378202
ISBN: 3764378204
What is Interior Design?
by Graeme Brooker (Author), Sally Stone (Author)
The study and practice of designing interior spaces is a constantly evolving subject. However despite the popularity of interior design at both undergraduate and post-graduate level, there is still very little legislation or definition available. What is Interior Design? aims to serve as an introduction for students, scholars, and practitioners who have an interest in interior design and architecture. This book examines the fundamental characteristics of interior space the analysis and understanding of existing buildings, the nature and qualities of organising an interior space, and an understanding of the material and surface qualities of found and applied textures. What is Interior Design? contextualises current issues around education and practice, examines both historical and contemporary concerns in design, and looks at the work of key practitioners in the field.
Paperback: 256 pages
Publisher: Rotovision (28 Feb 2010)
Language English
ISBN-10: 288893017X
ISBN-13: 978-2888930174
On Altering Architecture
Fred Scott
Bringing together interior design and architectural theory, this exciting new text looks at the common practices of building alteration, reconsidering established ideas and methods, to initiate the creation of a theory of the interior or interventional design. Fred Scott examines in-depth case studies of interventional design from architectural history across the world - examples discussed are taken from the States, Europe and Japan. Scott expands and builds on the ideas of Viollet-le-Duc, structuralism and other ideas to layout criteria for an art of intervention and change. Introducing and reviewing the theory of conservation, Scott draws on the philosophy of conservation, preservation and restoration, as well as exploring related social and political issues. For those in professions of architecture and interiors, town planners, and students in architecture and art schools, "On Altering Architecture" forms a body of thought that can be aligned and compared with architectural theory.
Paperback: 222 pages
Publisher: Routledge; 1 edition (29 Jun 2007)
Language English
ISBN-10: 0415317525
ISBN-13: 978-0415317528