Interior Design: Theory and Process
Anthony Sully
Successful interior design requires resolving a multitude of logistical and creative problems to produce a coherent, functional and aesthetically pleasing environment. This book, the first of its kind, tackles the problem from a theoretical approach and not in the conventional how-to or inspiring ideas fashion. Categorising design into nine key elements, including space, light, display, storage, and offering new terminology to describe each area, the author breaks new ground in the field of interior design in an approach that brings vitality and clear communication to a misunderstood and often free-wheeling design discipline. Drawing on more than 45 years experience as an interior designer, Anthony Sully provides the ultimate resource in insight and explains best practices from interpreting a client s brief, to analysing the building, to setting up a design team and work schedule plus a host of other practical aspects. Peppered through this toolkit are illustrations and explanations of how to analyse space and form in relation to human activity, the formulation of design concepts, and how to learn from mistakes that have been made in the past.
Publisher: A & C Black Publishers Ltd (24 May 2012)
Language: English
ISBN-10: 1408152029
ISBN-13: 978-1408152027
After Taste, Expanded Practice in Interior Design
Kent Kleinman, Joanna Merwood-Salisbury, Lois Weinthal, editors
What is taste? This well-curated collection documents new theories and emerging critical practices in the field of interior design. It investigates taste, a concept central to the formation of the discipline in the eighteenth century that was repudiated by architects in the early twentieth century, but which continues to play an important role in interior design today. Essays by historians and critics are complemented by interviews with practitioners on the margins of normative practice and portfolios of the work of contemporary designers.
Publisher: Princeton University Press
ISBN 9781616890261
Publication date 12/14/2011
6 x 9 inches (15.2 x 22.9 cm), Paperback
256 pages, 75 color illustrations, 25 b/w illustrations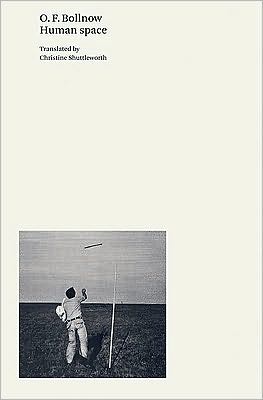 Human Space
O.F. Bollnow
Following its publication in Germany in 1963, Otto Friedrich Bollnow's Human Space quickly became essential reading within a cross-disciplinary field of subject areas including architecture, anthropology, and philosophy. In this first English translation, Bollnow conceives the human experience of space not merely as a philosophical problem but also as an extension of his research into psychology, human behavior, and the conventional domains of architecture: living in a building, in an apartment, in a house. Human Space is a remarkable investigation of space as we experience it, by a man many consider to be the father of spatial and architectural anthropology. This lush hardcover edition includes an afterword by Joseph Kohlmaier that situates the work in the context of philosophical and architectural discussion.
Pub. Date: September 2011
Publisher: Hyphen Press
ISBN-13: 9780907259350
ISBN: 0907259359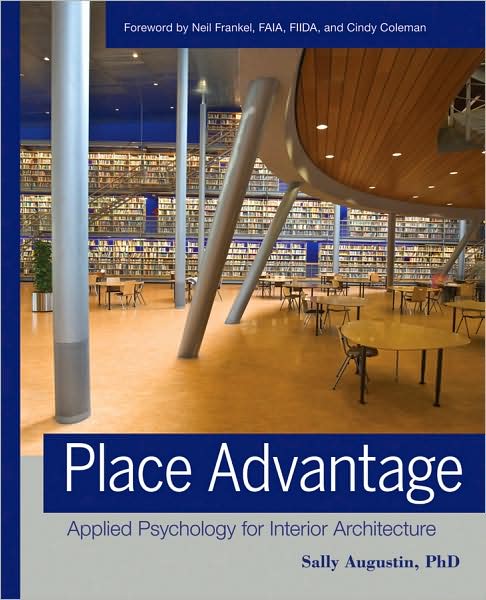 Place Advantage: Applied Psychology for Interior Architecture
By Sally Augustin
Using psychology to develop spaces that enrich human experience
Place design matters. Everyone perceives the world around them in a slightly different way, but there are fundamental laws that describe how people experience their physical environments. Place science principles can be applied in homes, schools, stores, restaurants, workplaces, healthcare facilities, and the other spaces people inhabit. This guide to person-centered place design shows architects, landscape architects, interior designers, and other interested individuals how to develop spaces that enrich human experience using concepts derived from rigorous qualitative and quantitative research.
In Place Advantage: Applied Psychology for Interior Architecture, applied environmental psychologist Sally Augustin offers design practitioners accessible environmental psychological insights into how elements of the physical environment influence human attitudes and behaviors. She introduces the general principles of place science and shows how factors such as colors, scents, textures, and the spatial composition of a room, as well as personality and cultural identity, impact the experience of a place. These principles are applied to multiple building types, including residences, workplaces, healthcare facilities, schools, and retail spaces.
Building a bridge between research and design practice, Place Advantage gives people designing and using spaces the evidence-based information and psychological insight to create environments that encourage people to work effectively, learn better, get healthy, and enjoy life.
Publisher: Wiley, John & Sons, Incorporated
ISBN-13: 9780470422120
ISBN: 0470422122
Pub. Date: April 2009
Colour Hunting
By Jeanne Tan
For millennia, artists and designers have utilized colour to express ideas and emotions in everything from the frescoes and textiles of ancient civilizations to the haute couture and digitally created architecture of today. Colour plays a vital role in our visual experiences and affects senses such as feeling and taste, but it also shapes our actions subconsciously. Colour Hunting: How Colour Influences What We Buy, Make and Feel explores the very depths of the subject.
Subtitle: How Colour Influences What We Buy, Make and Feel
Release date: June 2011
Author: Jeanne Tan
Compiled by: Hanneke Kamphuis and Hedwig van Onna
Published by: Frame Publishers
Language: English
Size: 200 x 265 mm portrait
Format: 264 pages, full colour, hard cover
ISBN: 978-90-77174-27-2
Price: €49.90 (excluding shipping costs)
What is Interior Design?
by Graeme Brooker (Author), Sally Stone (Author)
The study and practice of designing interior spaces is a constantly evolving subject. However despite the popularity of interior design at both undergraduate and post-graduate level, there is still very little legislation or definition available. What is Interior Design? aims to serve as an introduction for students, scholars, and practitioners who have an interest in interior design and architecture. This book examines the fundamental characteristics of interior space the analysis and understanding of existing buildings, the nature and qualities of organising an interior space, and an understanding of the material and surface qualities of found and applied textures. What is Interior Design? contextualises current issues around education and practice, examines both historical and contemporary concerns in design, and looks at the work of key practitioners in the field.
Paperback: 256 pages
Publisher: Rotovision (28 Feb 2010)
Language English
ISBN-10: 288893017X
ISBN-13: 978-2888930174

Re-readings: Interior Architecture and the Design Principles of Remodelling Existing Buildings
Sally Stone, Graeme Brooker, Richard Preston
Re-readings is an authoritative testament to the complex process of remodelling existing buildings. Although buildings have always been reused, the process of doing so has rarely been treated as an artform. In recent years, however, a huge amount of press coverage has been devoted to remodelling projects such as the Tate Modern in London, the Baltic Art Factory in Gateshead, the Grand Louvre pyramid and courtyard, and the Reichstag in Berlin, to name but a few. By attracting prestigious architects to its practice, it would appear that remodelling, once the dowdy cousin of the more glamorous architecture, has gained a new respectability. Re-readings responds to remodelling as an artform, making sense of the considerable structural, aesthetic, environmental, contextual and programmatic challenges of remodelling existing buildings. Illustrated throughout with a rich international portfolio of case studies, it explains the theory behind the way that architects and designers interpret and adapt buildings.
Paperback: 278 pages
Publisher: RIBA Enterprises (Oct 2004)
Language English
ISBN-10: 1859461328
ISBN-13: 978-1859461327

On Altering Architecture
Fred Scott
Bringing together interior design and architectural theory, this exciting new text looks at the common practices of building alteration, reconsidering established ideas and methods, to initiate the creation of a theory of the interior or interventional design. Fred Scott examines in-depth case studies of interventional design from architectural history across the world - examples discussed are taken from the States, Europe and Japan. Scott expands and builds on the ideas of Viollet-le-Duc, structuralism and other ideas to layout criteria for an art of intervention and change. Introducing and reviewing the theory of conservation, Scott draws on the philosophy of conservation, preservation and restoration, as well as exploring related social and political issues. For those in professions of architecture and interiors, town planners, and students in architecture and art schools, "On Altering Architecture" forms a body of thought that can be aligned and compared with architectural theory.
Paperback: 222 pages
Publisher: Routledge; 1 edition (29 Jun 2007)
Language English
ISBN-10: 0415317525
ISBN-13: 978-0415317528

"thinking inside the box" A Reader in Interiors for the 21st Century
Author/s:
Edward Hollis (ed.)
John Gigli (ed.)
Frazer Hay (ed.)
Andrew Milligan(ed.)
Alex Milton (ed.)
Drew Plunkett (ed.)
Interiors is a slippery discipline. Among all designed artefacts, interiors themselves are uniquely ephemeral and hard to define. The practice of interiors is relatively unregulated. The history of interiors is patchy and contested. The theoretical basis of interiors is largely unexplored in comparison to those of other disciplines. How, therefore, might we speculate about the role, validity and purpose of interiors in the 21st century?
Thinking Inside the Box is a reader designed to help students, academics, thinkers and practitioners of interiors do just that. Thinking Inside the Box is a collection of essays by prominent thinkers in the field of interiors, from Mark Taylor, co-author of 'Intimus' to Shashi Caan, the practitioner, and former head of interiors at Parsons, the new School of Design in New York. They address themes ranging from cushions, curtains, and feminism to the relationship between the interior and the enclave in the contemporary age of terror; from the regulation of the profession of interiors to the representation of the interior on the page, and in history.
This diverse reader is simply and clearly organised into four main sections:
• What is interior design? – Debates on the identity, the profession, and the regulation of interior design
• Why do we do interior design? – Essays on the relationship between theory and practice in interiors
• Histories of interior design – Stories from the practice of interiors and meditations on the history of the discipline
• How do we teach interior design? – Case studies from, and reflections upon, the education of the interior designer.
Thinking Inside the Box has been commissioned and edited by the Interiors Forum Scotland, a grouping of interior design academics from the University of Dundee, Edinburgh College of Art, Glasgow Metropolitan University, the Glasgow School of Art, and Napier University, Edinburgh, and The Lighthouse, Scotland's Centre for Architecture, Design, and the City.
ISBN: 978 1 904750 22 2
Format: Paperback
Pages: 300
Published: November 2007
Middlesex University Press

INTIMUS: Interior Design Theory Reader
Mark Taylor (Editor), Julieanna Preston (Editor)
Walter Benjamin observed in his writings on the interior that 'to live means to leave traces.' This interior design theory reader focuses on just how such traces might manifest themselves. In order to explore interior design's links to other disciplines, the selected texts reflect a wide range of interests extending beyond the traditional confines of design and architecture. It is conceived as a matrix, which intersects social, political, psychological, philosophical, technological and gender discourse, with practice issues, such as materials, lighting, colour, furnishing, and the body. The anthology presents a complex and sometimes conflicting terrain, while also creating a distinct body of knowledge particular to the interior. Locating theory on the interior through these multifarious sources, it encourages future discourse in an area often marginalised but now emerging in its own right.
Within the reader individual excerpts are referenced to their place in the matrix and sequenced alphabetically. This organising strategy resists both a chronological and themed structure in order to provoke associations and inferences between excerpts. In this way the book offers the possibility of examining the interior from multiple vantage points: a disciplinary focus, the spatial and physical attributes of interiors, historical sequence, and topical issue based. Excerpts from Thomas Hope, Catherine E. Beecher and Harriet Beecher Stowe, Edith Wharton and Charles Eastlake provide contemporary nineteenth century accounts as the profession emerges, whereas Barbara Penner, Penny Sparke, Charles Rice, Georges Teyssot and Rebecca Houze offer re-interpretations of this period. The complexities of the twentieth-century interior are revealed by Robyn Longhurst, Kevin Melchionne, George Wagner, John Macgregor Wise, Joel Sanders and many others.
About the Author
Julieanna Preston is a Senior Lecturer of Interior Design at the College of Creative Arts, Massey University, Wellington, New Zealand. This book extends her interdisciplinary practice and commitment to further developing interior design as a spatial art and intellectual endeavour.
Mark Taylor is a Senior Lecturer in architectural theory and design studio at Victoria University Wellington, New Zealand. Recent publications include guest editor of Surface Consciousness (Wiley-Academy, 2003) and co-author of Moments of Resistance (Archadia Press, 2002) with Julieanna Preston.
Paperback: 408 pages
Publisher: Academy Press (August 14, 2006)
Language: English
ISBN-10: 0470015713
ISBN-13: 978-0470015711


The Architecture of Happiness
Alain de Botton
One of the great, but often unmentioned, causes of both happiness and misery is the quality of our environment: the kind of walls, chairs, buildings and streets we're surrounded by.
And yet a concern for architecture and design is too often described as frivolous, even self-indulgent. The Architecture of Happiness starts from the idea that where we are heavily influences who we can be - and argues that it is architecture's task to stand as an eloquent reminder of our full potential.
Whereas many architects are wary of openly discussing the word beauty, the book has at its centre the large and naïve question: 'What is a beautiful building?' It amounts to a tour through the philosophy and psychology of architecture, which aims to change the way we think about our homes, streets and ourselves.
Publisher: Hamish Hamilton Ltd
Language: English, ISBN: 0241142482
Language: Dutch, ISBN: 9045012766


The Chair: Rethinking Culture, Body, and Design
A provocative look at one of our most common cultural artifacts, this book reveals the history, physiology, and politics of how and why we sit the way we do - and others don't.
Perhaps no other object of our daily environment has had the enduring cultural significance of the ever-present chair, unconsciously yet forcefully shaping the social and physical dimensions of our lives.
With over ninety illustrations, Galen Cranz's The Chair traces the varied history of the chair as we know it from its crudest beginnings in the Neolithic Age up through the modern ergonomic office.
Drawing on anecdotes, literary references, and famous designs, she documents our ongoing love affair with the chair - despite its potentially harmful effects on our bodies. Part social commentary, part design history, and part manifesto for a new way of living, this book brings a critical and delightfully astute eye to the place where we spend most of our waking lives.
Paperback: 288 pages
Publisher: W. W. Norton & Company; New Ed edition (January, 2000)
Language: English
ISBN: 0393319555

A Pattern Language
Christopher Alexander, Sara Ishikawa, Murray Silverstein
The second of three books published by the Center for Environmental Structure to provide a "working alternative to our present ideas about architecture, building, and planning," A Pattern Language offers a practical language for building and planning based on natural considerations. The reader is given an overview of some 250 patterns that are the units of this language, each consisting of a design problem, discussion, illustration, and solution. By understanding recurrent design problems in our environment, readers can identify extant patterns in their own design projects and use these patterns to create a language of their own. Extraordinarily thorough, coherent, and accessible, this book has become a bible for homebuilders, contractors, and developers who care about creating healthy, high-level design.
Hardcover: 1216 pages
Publisher: Oxford University Press (1977)
Language: English
ISBN: 0195019199

How Buildings Learn: What Happens After They're Built
All buildings are forced to adapt over time because of physical deterioration, changing surroundings and the life within--yet very few buildings adapt gracefully, according to Brand. Houses, he notes, respond to families' tastes, ideas, annoyance and growth; and institutional buildings change with expensive reluctance and delay; while commercial structures have to adapt quickly because of intense competitive pressures. Creator of The Whole Earth Catalog and founder of CoEvolution Quarterly (now Whole Earth Review ), Brand splices a conversational text with hundreds of extensively captioned photographs and drawings juxtaposing buildings that age well with those that age poorly. He buttresses his critique with insights gleaned from facilities managers, planners, preservationists, building historians and futurists. This informative, innovative handbook sets forth a strategy for constructing adaptive buildings that incorporates a conservationist approach to design, use of traditional materials, attention to local vernacular styles and budgeting to allow for continuous adjustment and maintenance. Copyright 1994 Reed Business Information, Inc.
Paperback: 256 pages
Publisher: Penguin Books; Reprint edition (October 1, 1995)
Language: English
ISBN: 0140139966

Looking Around: A Journey Through Architecture
Publishers Weekly With catholic taste, McGill University professor of architecture Rybczynski admires Michael Graves's post-modernist Portland Building in Oregon, Swedish artist Carl Larsson's modified log cabin and the New York Public Library, ``built for the ages.'' Readers of his books Home and The Most Beautiful House in the World will enjoy this collection of previously published articles and essays.
Rybczynski touts the advantages of smaller houses and links the revival of traditional house forms to a longing for the bourgeois ideals of stability and domesticity. With his usual grace, wit and lucidity, he writes about the quest for a regional California architectural style, about high tech as a ``mass-market fashion,'' about airports, about Palladio's 15th century Italian villas and about art museum design and suburban sprawl.
In one essay he interprets the decade 1910-1919 as a period of disorientation that ushered in modernism. As for the 1990s, Rybczynski sees no end to the profession's self-indulgence, as architects shirk their responsibilities to community and society. (Nov.) Library Journal Rybczynski is an architectural critic whose interests and resulting essays roam far from the specific building(s) he is enjoying.
These critiques employ a gentle, even relaxed prose that allows readers to share Rybczynski's aesthetic connections and his expansions on the role of building styles in our constructed world. The book contains 35 brief pieces divided into three sections: ``Homes and Houses,'' ``Special Places,'' and ``The Art of Building.'' Rybczynski takes us from the demise of the parlour (is the living room next?), to the Nixon Library, to the future of Chicago architecture.
By wandering confidently through a broad anthropological as well as architectural landscape, the author is able to unite a wide range of design details into insightful analysis. This work is recommended for both academic and public libraries.-- David Bryant, Belleville P.L., N.J.
ISBN: 0140168893
Format: Paperback, 301pp
Pub. Date: November 1993
Publisher: Penguin Group (USA)

The Look of Architecture
From Publishers Weekly With his refusal to hide behind the jargon and hype endemic to the profession, and his ability to puncture its pretensions without mean-spiritedness, Rybczynski (Home: A Short History of an Idea) has become a leading writer on architecture. This concise survey of style in architecture is derived from three lectures the author gave in the New York Public Library, and the intimate, conversational tone he adopts manages to convey a lot of information in a very agreeable way. Indeed, Rybczynski's emphasis on style is itself provocative in a profession that has traditionally given such considerations short shrift. ("Style is like a feather in a woman's cap, nothing more," he finds Le Corbusier observing.)
Add to this Rybczynski's referencing of interior design and fashion, and one has a book as iconoclastic as it is readable. Another great strength of the book is its delightfully discursive set pieces, including one on the buildings around Bryant Park this will have visitors to New York clutching this trim and portable book as they peer upwards at the rich mosaic of buildings so beautifully contextualized within. The range of the book is impressively wide, with many less familiar buildings (the Canadian Parliament buildings, the solidly elegant cottages of Alan Greenberg) given due consideration, and recent superstars such as Frank Gehry's Bilbao Guggenheim crisply observed. The author's deeply informed enthusiasm is infectious, and his removal of architectural writing from an airily theoretical discourse to the realm of practical experience is empowering for the lay reader. We all have to live in buildings, after all. (July) Copyright 2001 Reed Business Information, Inc.--This text refers to an out of print or unavailable edition of this title.
Product Description:
What is style in architecture? "Style is like a feather in a woman's hat, nothing more," said Le Corbusier, expressing most modern architects' low regard for the subject. But Witold Rybczynski disagrees, and in The Look of Architecture, he makes a compelling case for the importance of style to the mother of the arts. This is a book brimming with sharp observations--that form does not follow function; that the best architecture is not timeless but precisely of its time; that details do not merely complement the architecture--details are the architecture. But the heart of the book illuminates the connection between architecture, interior decoration, and fashion.
Style is the language of architecture, Rybczynski writes, and fashion represents the wide and swirling cultural currents that shape and direct that language. The two--style and fashion--are intimately linked; indeed, architecture cannot escape fashion. To set these ideas in sharp relief, he shows us how style and fashion have been expressed in the work of major architects including Frank Gehry, Mies van der Rohe, Charles McKim, Allan Greenberg, Robert Venturi, Enrique Norten, and many others. He helps us see their works anew and ultimately to look afresh at our surroundings.
Style is one of the enduring--and endearing--aspects of architecture, Rybczynski concludes. Furthermore, an architecture that recognizes the importance of style would not be as introspective and self-referential as are so many contemporary buildings. It would be part of the world: Not architecture for architects, but for the rest of us.
ISBN: 0195134435
Format: Hardcover, 144pp
Pub. Date: March 2001
Publisher: Oxford University Press
The Interior Dimension: A Theoretical Approach to Enclosed Space
Joy Monice Malnar, Frank Vodvarka
This comprehensive survey brings together primary source material related to the design of interior spaces through history. The authors probe how issues in the design of interior space have been approached by designers past and present and also the influence of fields such as psychology and the fine arts on spatial design. Excellent visual examples clarify different concepts discussed. This book should be of interest to student and professional interior designers and architects.
Publisher: Wiley; 1 edition (October 1, 1991)
Language: English
ISBN-10: 0471289027
ISBN-13: 978-0471289029
Gaston Bachelard
La poétique de l'espace (1958)
The Poetics of Space
This is a deep, magical, densely captivating book about space, our homes, how we live in them, and how dwellings and space affect us; it is as much a book of philosophy as a work of serious literature. It requires careful, preferably leisurely reading, with the possibility of moments to pause and digest and re-read the words. It will change the way you look at your home and your life, providing a deeper, more insightful relationship with the spaces you occupy.
Publisher: Beacon Press; First Edition edition (April 1, 1994)
Language: English
ISBN-10: 0807064734
ISBN-13: 978-0807064733

Home: A Short History of an Idea
Library Journal
In a loosely configured essay, Rybczynski (Architecture, McGill Univ.) discusses the idea of comfort and the Western cultural attitudes that have shaped it since the end of the middle ages. Rather than dealing with the technical aspects of architecture, he reviews such cultural variables as intimacy and privacy, domesticity, ease, and ideas about light, air, and efficiency as they have changed over time. Essentially Rybczynski makes a plea for the primacy of cultural ideals as a basis for creating psychologically comfortable homes. Though he is selective in his history and examples, this is a worthwhile counterweight to the all-too-common technical practices of modern architects. Recommended. Jack Perry Brown, Ryerson & Burnham Libs., Art Inst. of Chicago
ISBN: 0140102310
Format: Paperback, 232pp
Pub. Date: June 1987
Publisher: Penguin Group (USA)

Interior Design Education Round Table: Thinking into the Future
The IFI roundtable discussions are designed to foster an open dialogue around important issues that percolate from the local, regional and national constituencies into the global arena. These conversations aspire to engender broader and deeper common understanding of the field and practice of interior architecture/interior design (such terms being used interchangeably) by exploring topical and pertinent facets of this discipline around the world.
The New York-07 Round Table centered on the intersection of education and research with the practice of interior architecture/interior design. While Thinking into the Future primarily focused on educational aspects of the discipline and practice, we hoped to encourage the broadest discussion of this and related issues.
This report comprises the one-and-a-half days of presentations, including the discussions and three submitted papers.
As a global entity, IFI seeks to foster an ever increasing depth and breadth of knowledge and understanding of interior architecture/ interior design. The organization desires to be inclusive and to build a consensus among countries, groups and individuals.
Order at www.ifiworld.org

Interior Design: the State of the Art
IFI - International federation of Interior Architects-Designers
Interior Design: the State of the Art was a special meeting convened in June 2006 in Singapore to discuss topical issues for the field around the globe. The intention with this gathering of world experts involved in the education and practice of the profession was to question, debate and arrive at a better understanding of the state of the art of Interior Design, and what the field represents today and into the future. IFI invite all participating members to participate in this ongoing debate.
Order at www.ifiworld.org